September 1st, 2009
I am so proud of our little Ellen. She won the channel 17 Pet Of The Month contest in Jacksonville, Florida. She will get seen this month during commercial time on channel 17. Ellen also gets a large gift basket of treats and we get tickets to Universal Studios in Orlando. Our little gal is a cutie in her photo, isn't she?
August 20th, 2009
It's been a busy couple of weeks here. Despite the heat and high humidity I recently went to the Guana Preserve and Anastasia State Park for take some nature photographs. Lots of insects and flowers were seen, as well as a couple of water birds, a gopher tortoise, a posing crow, and spiders galore. My portfolio is growing weekly though I am very picky about what I keep. Great fun!!
August 8th, 2009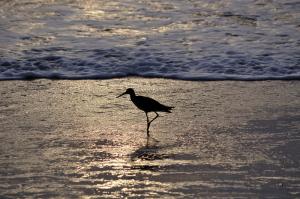 I was recently honored to have my "Sandpiper on a Golden Beach" photograph selected for inclusion by the Boulevard of Phorographers in their Best of 2009 Photo Anthology.. This is a group of photographs selected from thousands by a staff of professional photographers in their Photo Challenge. It is wonderful to know my work is appreciated. If you are interested in purchasing greeting cards or a print of this work you can find it on my artwork page near the top.
July 24th, 2009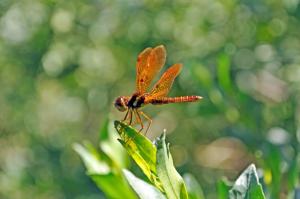 What do you think of when you hear the term 'St. Augustine Alligator Farm'? Tourist trap? Tacky gift shop? They have come a long ways since the 1970's. The park now has a dedicated bird rookery that draws photographers from all over the world. This week I spent some time taking photographs I have posted on my webpage of some of the wildlife there. I have only scratched the surface as they have so many scenic shots waiting to be taken. This weekend I am adding a larger telephoto lens so I have more versatility in taking the type of shots offered there. Great fun!
July 16th, 2009
This blog is an offshoot of my retirement goal of entering the world of professional photography. As such, I should tell you all that I have been a hobby photographer since the Stone Age. I still remember my old darkroom where I mixed chemicals in large jugs and made my own black/white and color enlargements from 35 mm negatives. Ah, the good old days! Over the past few years I have been learning the intricacies of digital photography. Things have progressed in the digital world to the point that I don't feel like I am cutting corners when I take a great photo.

I recently purchased a Nikon D5000 camera. It gives fantastic photos and has very low noise levels at any reasonable ISO. Yes, I know that "real photographers" spend $5000 for one of the top of the line Nikons or a similar camera but I am just a poor retired high school teacher living on a meager pension. As it was I had to promise my soul to my wife in order to get her consent for the D5000. I do not feel I am too shortchanged, though. It is a wonderful camera and probably is the best value of any camera under $2000. In the hands of a good photographer it has the potential to take outstanding photographs.

That's all for now. I will be updating fairly regularly. See ya!